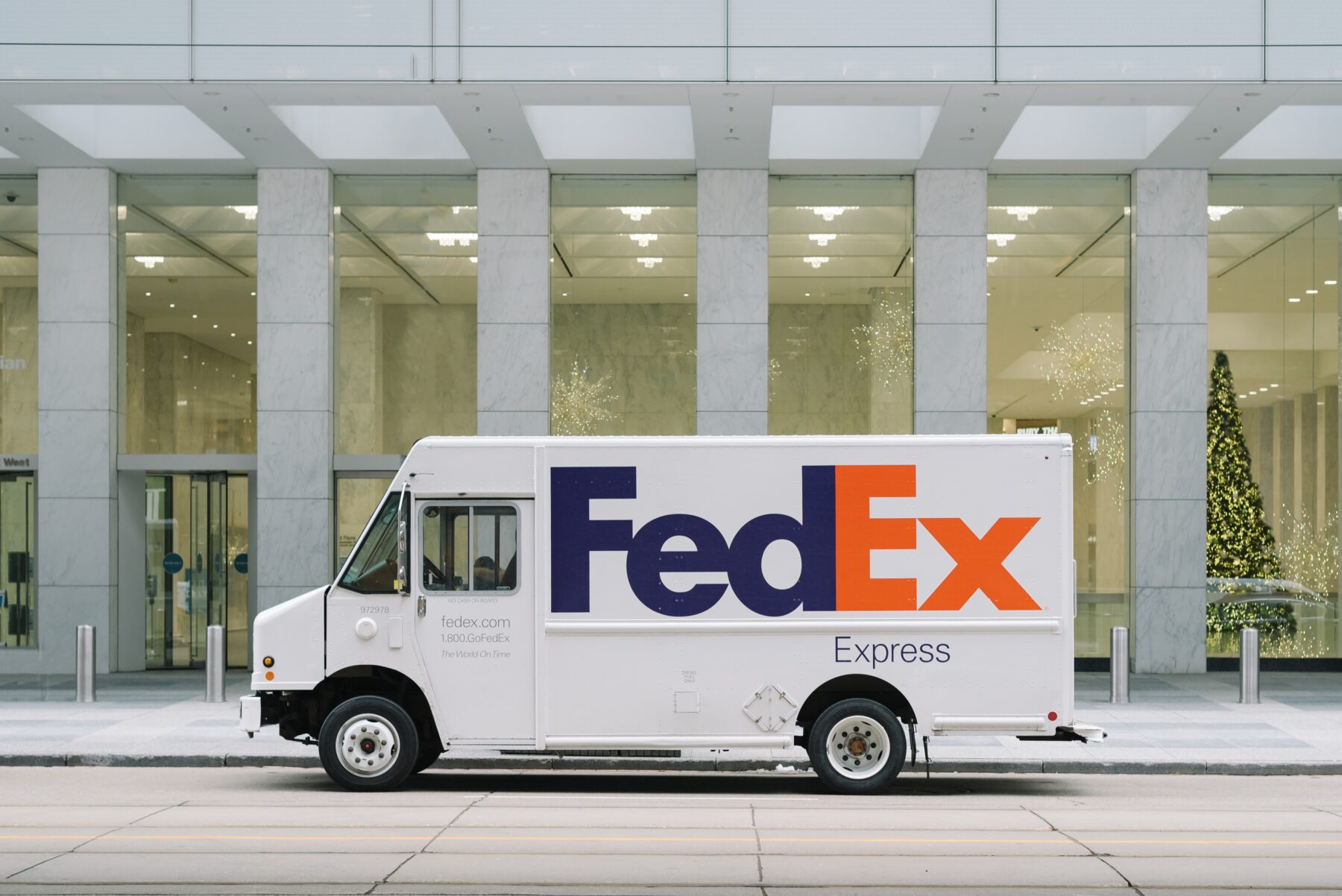 If you're accustomed to sending or receiving packages, you're probably familiar with FedEx. It's the second-largest private delivery service in the world; only UPS is bigger.
In fact, FedEx Ground — which is the division of FedEx Corporation that transports packages via highways and roads — delivers about 9.9 million packages each day.
Of course, the vast majority of people who drive for FedEx are responsible, reliable, law-abiding, and hardworking. And FedEx, to its great credit, has maintained an excellent overall safety record throughout its corporate history.
On the other hand, each year, hundreds of FedEx-related vehicular accidents occur. In many of these instances, FedEx drivers are totally, primarily, or partially at fault.
If you were ever the victim in an accident caused by a FedEx driver's negligence, you'd be legally entitled to full restitution.
Moreover, if the FedEx employee were to drive away immediately after that collision — without pulling over and waiting for the police — that person would be in especially serious trouble.
Indeed, under Texas law, hit and runs are punishable by one to 10 years in prison and up to $5,000 in fines.
FedEx: A Brief Introduction
The FedEx Corporation, a globally-recognized delivery brand, is based in Memphis, Tenn. It was founded in 1971. Today, this company operates more than 1,900 physical locations, and it owns tens of thousands of vehicles. It also employs more than 500,000 people at any given time.
However, many FedEx drivers are actually independent contractors, people who may only work for the company for a certain period of time. Nevertheless, at least one federal appeals court has ruled that those independent contractors are FedEx employees for all intents and purposes. (In the past, FedEx attempted to argue otherwise.)
As such, FedEx Corporation bears the same legal responsibility for each independent contractor as for any other employee.
When FedEx Drivers Are Negligent
It's true that some FedEx drivers may drive recklessly. They could speed, tailgate, change lanes without signaling, or ignore certain road signs.
In some cases, FedEx drivers might be behind schedule and feel great pressure to make up the time somehow. And, naturally, the enormous rush of packages during the holiday season can be profoundly taxing and hectic for many delivery drivers.
Indeed, some drivers take risks for the sake of their careers that they would never take under normal circumstances.
Even so, there's no excuse for operating a delivery truck carelessly or recklessly. To the contrary, such a mistake represents a severe legal, ethical, and moral failing.
Not to mention, a delivery truck is so big and heavy that, in the wrong hands, it could become extremely dangerous. In an accident, such a vehicle could demolish multiple cars or destroy an entire building.
What to Do After a FedEx Hit and Run
As soon as you're struck by a FedEx truck, you may find yourself in a state of rage, horror, anxiety, or agitation. If at all possible, though, try to take a deep breath and remain calm. Remind yourself that you'll have an opportunity to seek justice later on.
Immediately After the Crash
Right after the collision, if you're in pain or bleeding — or if someone near you is seriously injured — call 911.
If no one requires immediate hospitalization, call the police first.
Also, if you're able to see the FedEx truck's license plate number before it speeds away, try to take a picture of it or even jot it down.
Furthermore, watch which direction the FedEx vehicle goes; that detail should be helpful to the police.
Speaking to Witnesses
After calling the police, get out of your vehicle if you can, and approach any bystanders you see. Politely ask those people to stay in place until the police officers arrive.
That way, everyone can provide valuable eyewitness testimony. Given how quickly human memories can fade, it's important to get these accounts on record as soon as possible. Simply stated, the less time passes, the more accurate the information will be.
Taking Photos and Videos
At this point, you or one of your passengers should take a series of photos and videos. Be sure to snap pictures of your damaged car from various angles, inside and out.
Likewise, photograph any injuries you or other people might have.
Take pictures of your surroundings as well, including tire marks and packages that fell from the delivery truck. Similarly, photograph anything that's damaged: trees, shrubs, mailboxes, road signs, and so forth.
Getting Medical Care
Once the police have completed their inquiry at the scene, you should go straight to your doctor's office or to a hospital, even if you feel fine.
It's crucial to get checked out and make sure you don't need any kind of treatment. It will also bolster your legal case against FedEx if you seek medical attention right away.
How a Personal Injury Attorney Can Help You
As soon as you've been cleared by a doctor, your next step is to get in touch with a personal injury lawyer — preferably one who specializes in vehicular accident and hit-and-run cases.
Your First Visit
You'll arrange a consultation with that attorney, during which time you can tell your story and share any pieces of evidence you've collected: photos, videos, and so on. This lawyer can then file a personal injury claim on your behalf.
Plus, your attorney will contact FedEx to tell its representatives about your accident and to inform them that the company is legally responsible for your damages.
How much will you ask for in terms of compensation, though? To answer that question, you'll compile documents that prove how much money you've lost due to the hit and run. (You'll turn those papers over to your lawyer, while retaining your own copies.)
Such documents could include but are not limited to the following:
Medical and physical therapy bills
Receipts for medical items like medications, a wheelchair, or a cane
Car repair bills or estimates
A signed statement from your employer detailing your lost wages
Receipts for replacing damaged items (such as a new car to replace your totaled car)
Receipts for services you need since you can't do certain things right now, like taxi rides because you can't drive or lawn care because you can't mow your lawn
Additionally, you'll give your lawyer all relevant police reports, medical reports, insurance forms, and so on.
Pain and Suffering
It's a good idea to keep a journal after an accident. In your journal entries, you could discuss your medical treatments, your current level of pain, and the events you're missing because of the hit and run.
This type of journaling could be therapeutic, and it could also help your lawyer calculate your pain and suffering damages. In legal terms, "pain and suffering" refers to the physical, mental, and emotional agony that a plaintiff endures.
Thus, this amount of money isn't connected to any specific costs. Rather, it's a more generalized way of addressing a victim's pain. Broadly speaking, the more intense that suffering is, the larger the sum will be.
Your Lawyer's Investigation
Your lawyer's team will likely conduct their own investigation into your crash. They might re-interview eyewitnesses, obtain security footage, and look into the driver's professional and criminal background, among other avenues of inquiry. And they may unearth vital new pieces of evidence.
In the end, your attorney will determine precisely who was at fault for your hit-and-run accident. While the driver will probably shoulder most of the blame, there may be other negligent parties as well.
Here are some of the questions that must be answered:
Was this FedEx driver overworked or denied break times?
Did the truck malfunction because a safety inspector wasn't thorough enough?
Was the vehicle overloaded?
Was the employee fully trained, licensed, and insured?
Did this driver undergo a proper background check before getting hired?
If anyone was negligent in any such way, that failure will be factored into your level of compensation.
Finding the Right Attorney
In all of this, you don't want just any lawyer taking on your case. FedEx is a large and powerful corporation, after all, and its insurance lawyers are top-notch. That is to say, they're adept at finding legal loopholes, skirting liability, and ultimately paying out as little as possible.
With all that in mind, you'll want a skilled attorney who specializes in accident cases. You need a lawyer with a long track record of success against even the most high-powered of defendants.
The personal injury attorneys at PM Law Firm are just such professionals. These lawyers have won major settlements and other positive results in thousands of cases. And, to each case they take on, they bring expertise in Texas law, sharp strategic abilities, dedication to their clients, and utter fearlessness.
For sure, a FedEx-related hit and run can be a terrifying ordeal with far-reaching effects. But, in the immediate and long-term aftermath, you shouldn't struggle alone — especially against a huge and mighty entity like FedEx Corporation.
Instead, with the right attorney at your side, you could earn enough compensation to pay off your debts and start putting your life back together. Yes, after a devastating accident, you can attain — and you deserve to attain — happiness, inner peace, and true fulfillment.
To learn more about what we could do for you, please contact PM Law Firm at any time.